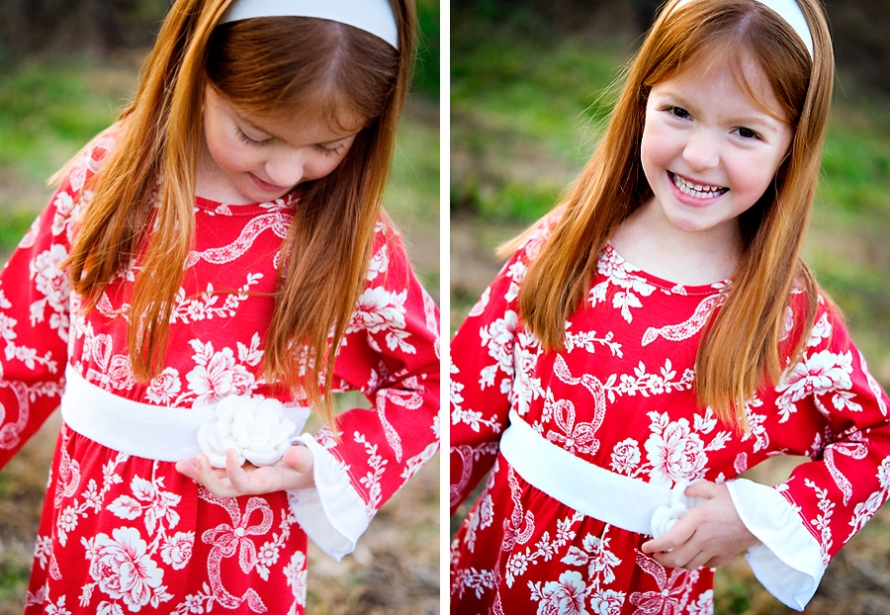 I have two quick holiday shopping tips for you today!  First, shop locally.  I'm planning on trying out some local businesses that I've never shopped at until now – and I hope you will too.  It's a great way to keep money in our community, and help our local economy.  One of my favorite local businesses, of course, is Bella Bambini in the Shoppes of Knollwood.  There you can find unique and darling kids' clothing – like this dress! My daughter is THRILLED to finally be allowed to wear it, since the Christmas season is finally upon us.  Second, shop smart.  I am a VERY frugal person – almost to a fault – so when great deals come along, I definitely take note of them!  One awesome deal right now is – you guessed it – the Sweet Pea Photography gift certificate sale!
This sale ends in just a few days, so here are all the details again if you haven't heard yet… until Monday December 7, each time you purchase $200 in gift certificates to Sweet Pea Photography, I'll toss in an extra $50 gift certificate FREE!!  Yep…  for every $200 gift certificate (which can be used toward session fees, prints, albums, canvases, digital collections, or any other product I offer) that you purchase between Friday November 27, 2009 and Monday December 7, 2009 — you will receive an additional $50 gift certificate totally FREE!  This is a great gift for Christmas – plus, these gift certificates never expire – so you can use them next month or next year!
All you need to do is POP A CHECK IN THE MAIL (made out to Sweet Pea Photography, 708 Lavender Dr, Savoy IL 61874) and make sure it's postmarked before Monday December 7th.  If you want to send me an email to let me know a check is on the way, that's fine — or just write "g.c. sale" in the memo line of your check and I'll know what's up! Once I receive your payment, I'll mail your gift certificates and your extra free $50 gift certificates — and they'll even be gift-wrapped in a lovely Sweet Pea Photography box and ribbon!!  Couldn't be easier.
The only fine print is that this offer is only valid for gift certificate purchases completed (ordered and paid in full) between 12:01 am Friday November 27, 2009 and 11:59pm Monday December 7, 2009.  All gift certificates will be mailed on Wednesday, December 9th.
Oh, and if you're wondering — YES!  You can still vote in the Matilda Jane PHoTo LoVe contest through December 6th!! Go here and add my image to your cart and then check out to submit your vote! Thanks!!