Day 4 : Finishing the concrete patio, home visits, and a church service
On Wednesday, we woke to sunny skies… uh oh… Thus far, our work days had been blessed with clouds to cut the heat and prevent sunburn.  But on Wednesday, the sunshine was streaming in our windows when we opened our eyes.  Thankfully, by the time we got to the Compassion project site after breakfast, God had provided some clouds once again!  The sun peeked through from time to time during the morning, but not too much! First (and main) task for the day – finish the concrete patio!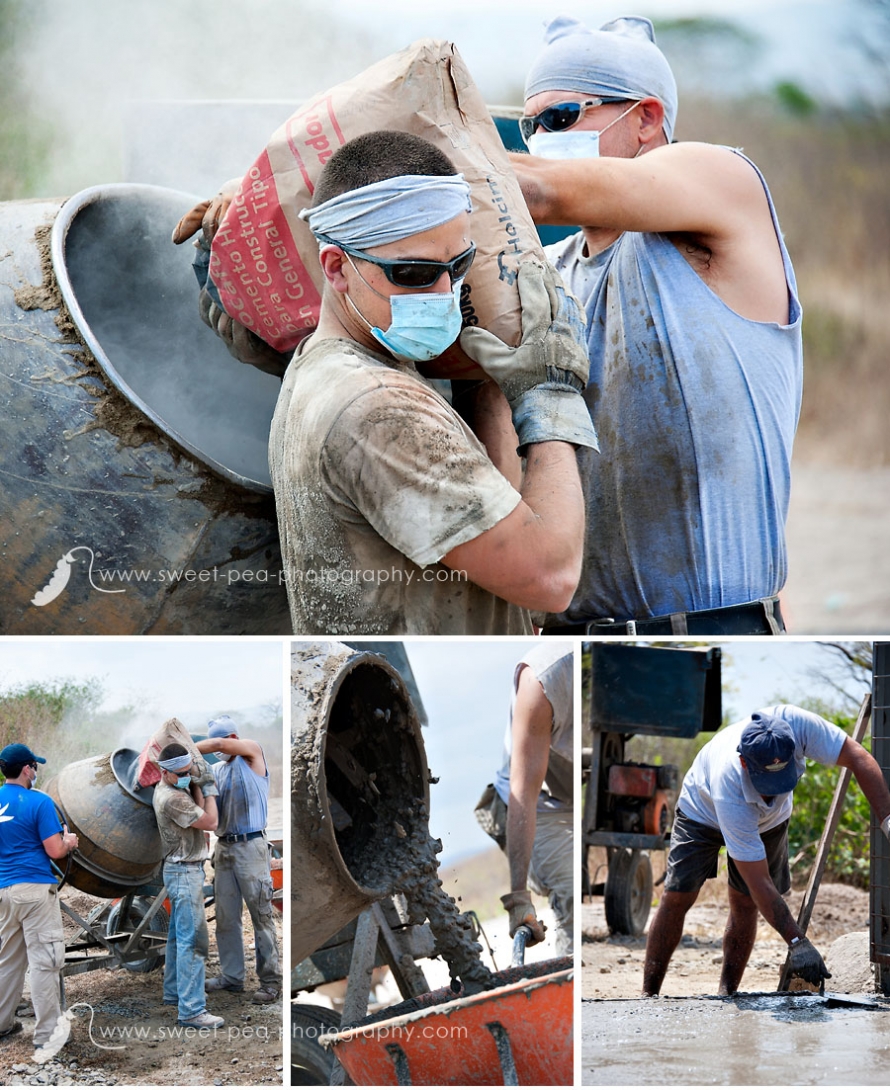 With the painting finished, my crew was able to help with the concrete work.  The system everyone worked out was great – with extra hands, we were able to have 3 people working the sand, 3 people working the rock, Sky and Mike hauling the cement mix, 3 others moving wheelbarrows, and 2 more troweling and finishing the concrete.  Even better, with this new system, everyone got a little bit of rest from time to time!  While we worked, a local welder arrived and started assembling the playground that we would install.  He was amazing…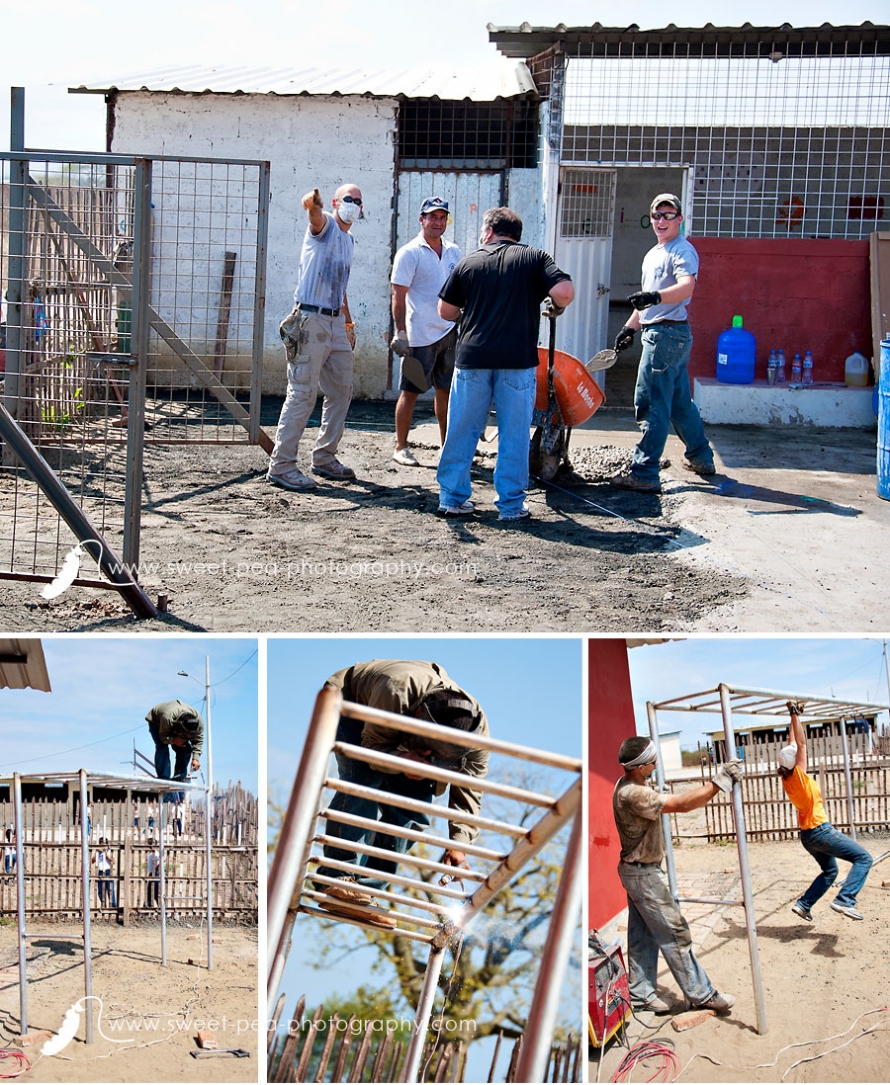 No plans, just some metal pipes, welding tools, and a hacksaw… and he quickly put together a set of monkey bars and an A-frame swingset with a metal slide. Awesome. When the kids arrived later that afternoon, they were thrilled to see the playset, and started climbing on the monkey bars right away, even though the concrete footings we had set them in weren't quite dry yet!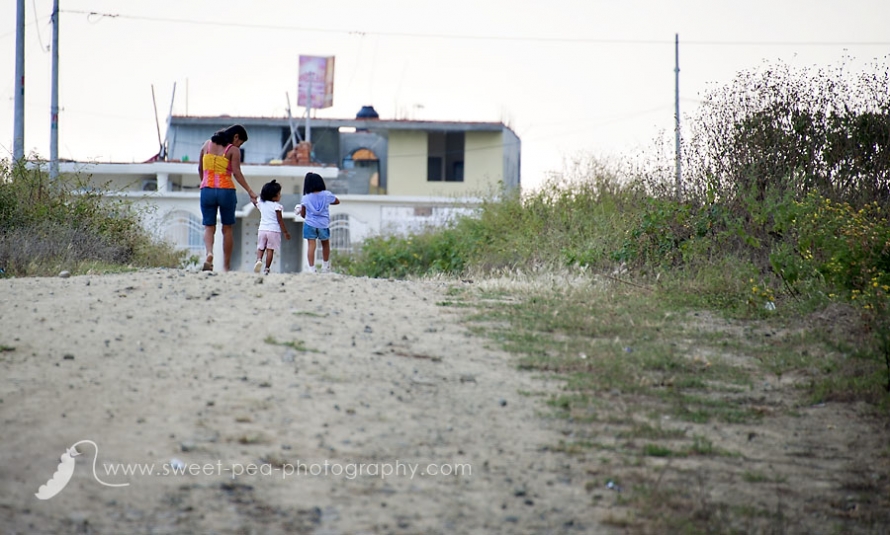 After lunch, we split into three small groups and visited some homes of families participating in the Child Survival Program (CSP).  This Compassion program works with pregnant moms and parents of children under three years old.  Prior to this home visit, I knew very little about the CSP and how it helped families – but after meeting with 19-year-old Myra and her 13 month-old son in their home, I believe that this program is key to changing lives in Ecuador. Myra's home was similar to the one in the very far right of the picture below – but probably even smaller. It was about 8′ wide and 16′ long, and divided in the middle with a short wall to create two living spaces. The sides of the home were covered with bamboo and paper, while the roof was corrugated aluminum. There was a front door – also made of bamboo and paper/cardboard – and no windows.  Because the walls were just bamboo and paper, light came through the cracks.  In the front room of her home was a small table with two chairs, and also a counter-height table with a propane cookstove (similar to one you'd take on a camping trip). In the back room of her home was a refrigerator, two beds (one for her and her husband, one for her son), a hammock that hung above the beds (she said that her son likes taking naps in the hammock), and cardboard boxes stacked in the corner, containing their clothes.  All of those items were crammed into the room neatly, leaving a space about 4′ square in the center where one could stand… but our group of 8 (5 of us plus our translator, Myra, and her CSP tutor) could not all fit in the back room at one time. Her home was on a small plot of land with about 3 other homes of the same size, all surrounded by a bamboo wall.  Our translator explained that her other family members (parents, siblings, etc.) likely lived in the other homes on the plot, and they all would share electricity and a cistern of water. I didn't take any pictures at Myra's home because it just didn't feel respectful at the time – but during the church service in the evening, Myra came up to me and asked to take a picture of me holding her son (he wasn't too interested, but that's okay!) Sky and I hope to sponsor him once he's three years old…

Through our translator, Myra told us that she had stopped going to high school after 10th grade because she got pregnant and couldn't make the walk to school each day.  She began participating in the CSP program when her son was 3 months old, and she was excited to show us her folder of the daily worksheets she had completed since that time.  I was very impressed with the format of the CSP curriculum.  Once a week, a CSP worker comes to Myra's home and talk with her about child development, physical milestones, spiritual growth, parenting strategies, and learning activities she could do with her son. They look through her daily worksheets together and talk about times that Myra has used her skills during the week.  The CSP worker asks about her son's health and makes sure that any medical needs are met.  Finally, the CSP worker encourages Myra to practice her handicraft skills, so that she can eventually make and sell items for income.  In return for all of these free services and assistance, Compassion simply asks participants to attend the local church once a week (or at a minimum, once a month). That's it. Our translator mentioned that, had there been a Compassion Child Survival Program in place at Las Brisas during Myra's pregnancy, Compassion would even have paid for all of her prenatal and delivery expenses. That is amazing!

After the home visit, we went back to the Compassion project to spend more time with the kids and participate in an evening worship service. Standing at the back of the very full room, it was interesting to see that the only men in the room were the pastor Jose and the guys from our team.  I'm guessing most of the men in the community were away at work (the service was at 4pm) but I'm not sure if many men attend on Sundays either.  Even all of the staff of the Compassion program were women.

After the worship service, it was time to say good-bye to the kids and head back to the hotel… but we all extended our good-byes as long as possible!  The kids couldn't get enough of taking pictures, making silly faces and bunny ears (especially the boys of course!), and giving hugs… and neither could we!

It was hard driving away from the Compassion project – seeing all of the smiling faces of the kids, hoping that we really made a difference in their lives, already thinking of the next time that we can travel to Ecuador and serve the people in this community…