First — two quick reminders:  1) The Sweet Pea Photography Summer Schedule is now OPEN!! Click here to see my availability for May-August, and then send me an email (or use the contact form here on the blog) to request a date/time!  2) The Gift Certificate Spring Sale is still going strong!! Remember, for every $200 gift certificate you purchase until April 30, 2010, I'll toss in a $50 print certificate FREE! See all the details here.  Okay… back to today's post…
It's that time of year, when spring is in the air and lots of homes go on the market!  So this month, I'd like to introduce a recent client of Sweet Pea Photography (and a great friend of mine)… Molly A. Jones!  Molly is a Realtor through Coldwell Banker Devonshire, and recently received the Rookie Sales Associate of the Year Award for the Eastern Region — Congratulations Molly!!  I had the pleasure of working with Molly several months ago when she needed a new business portrait and photographs for her marketing materials, and we had a great time during her session.  (Yes, Sweet Pea Photography is available for commercial photography and business portraits!  Just give me a call…)  Now, without further ado…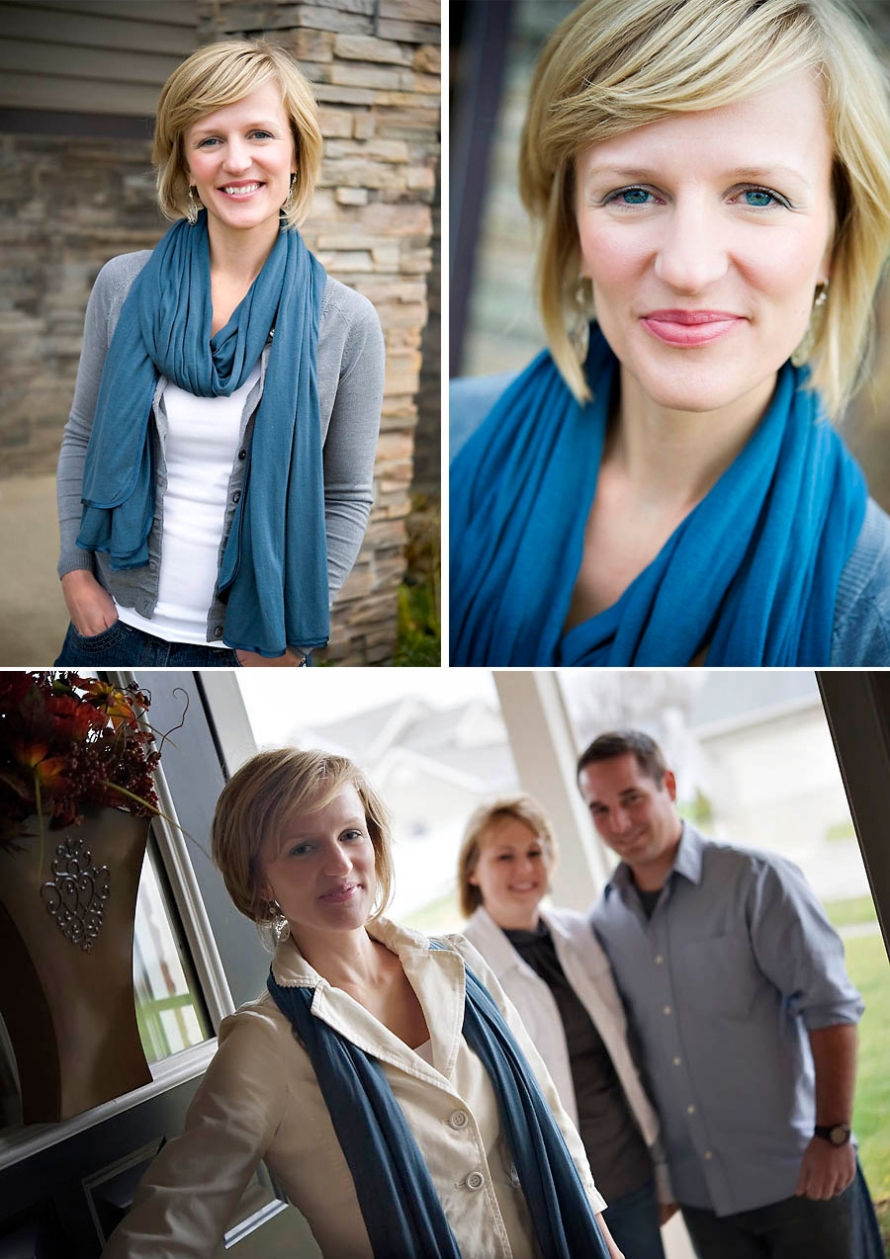 1) Tell us a little about you and your family…
Well, I am the wife of JP, a minister at FCC (First Christian Church of Champaign) and the mother of my 3 energetic and gorgeous (I am their mom after all…) children.  We are kind of a cross between the Brady Bunch and the Simpsons.  We are basically two parents trying to do our best and working to create the best home we can for our kids.  I love to be with them and, honestly, love to be away at times too.  If you are a mom, you get what I mean!
2) What first inspired you to become a realtor?
I am not only a preacher's wife but also a preacher's kid, so I grew up in the church watching ministry take place and that instilled in me a strong desire to help and serve people.  I have served people in many ways throughout my life, including kids, teens, the elderly, women and families.  It just seemed to work for me to translate that into Real Estate.  Often the most stressful times in families' lives is during a move, whether they chose it or not, and I want to be a trusted friend who can help hold them together and eleviate the stress for them.  I love helping families during times of transition.
3) What do you enjoy most about your work?
In addition to what I've already said, I really love to show homes to kids.  It is so fun to see them run from room to room declaring what is theirs!  First time home buyers are great too, because this is all so new and exciting to them.
4) What do you enjoy most about being a mom?
The most… that is hard.  I love so many things about it… sitting in the rocker reading together, bedtime prayers, secrets from my 4 year old, playing catch with my 8 year old, the big greetings when I come home from a long day!  I love so much of it!
5) Your passion seems to be relationships, and in this busy world, they are easy to neglect… can you share some tips of how you keep in contact with the people in your life?
I have to schedule it! I block out times that are "non negotiable" to be with my husband, kids or schedule lunch with friends.  It is always hard to not schedule other things into that time, but it is so worth it when I get to unwind with a friend.  I will be honest, I am not always great at this, but I am always trying to get better. Actually, at this moment my husband is sitting next to me waiting for my attention, so I better make this quick!
6) Describe a day in your life – how do you balance kids and work?
A typical day starts at the bus stop, enjoying some hot tea "to go" and chatting with other moms before leaving for the office.  The office can be an actual office, Panera, a client's home or my car.  Each day can be so different as a try to meet the needs of the many families that I serve. I love the variety and challenge of each new day.
7) What Bible verse is your favorite, and why?
Isaiah 61:1-6 is one of my favorites because we have all been broken at one time or another and these verses bring so much hope.
Thank you, Molly for sharing your thoughts with us today!  Since it's a little tricky to have a special giveaway related to real estate (can't quite give away a house…) here's the contest this month… Sweet Pea Photography will give the winner a $50 print certificate that can be used toward purchases from your next session (or even given to a friend if you're super nice!) How can you win?  All you have to do is tell your friends about this post by:
1) post a link that says "check out an awesome giveaway at http://sweet-pea-photography.com/blog" on your Facebook wall/status or Twitter account, or
2) invite your friends to become a fan of Sweet Pea Photography on Facebook , or
3) even just tell a friend about it!
And then leave a comment here on the blog to let me know each way you told your friends… then I'll randomly choose one winner from all the entry comments on the blog received by April 26, 2010 at 11:59pm!! Ready… set… GO!