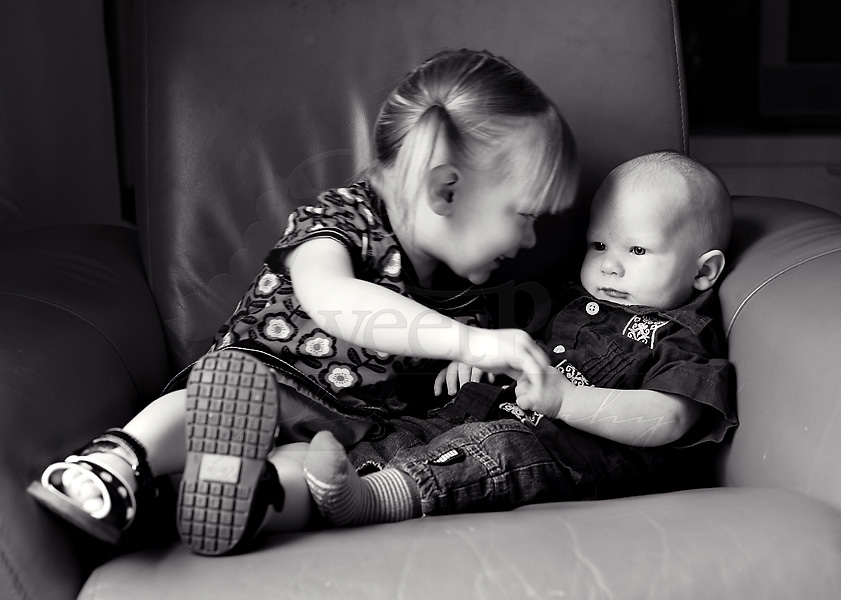 This month's Client Q&A participant is Tracy – the mom of an awesome family that I've enjoyed working with for the past three years!  It has been great watching Isabella grow up, and having Cooper join their family 7 months ago.
What did you have for lunch today? A vegetarian "chicken" patty and some cherries
Your favorite summertime activity to do with your family: Discovering new parks/playgrounds for the kids (recent find – great park in Bloomington directly in front of the Miller Park Zoo).
One website you surf daily: Although I resisted for a very long time, I check Facebook daily.
Three places in the world you'd like to visit: The Redwood Forest, Easter Island, anywhere in Italy.
What brings peace and calm to your life: Typically, a 2 year old and a 7 month old do not instill peace and calmness in one's life. With that said, and as crazy as this will sound … My children allow me to find peace and calmness. No matter what has happened in a day, watching my children sleep — when they finally decide it is time to sleep — can melt away any amount of stress. Isabella and Cooper make me stop, smile and appreciate how lucky I am to have such happy, healthy children.
Something you think is underrated: Cloth Diapering —  It is much easier than most people think and the benefits to our babies and the environment are immense!
Your favorite band/musical group: I enjoy listening to a wide range of music… I'd have to say my favorite band is my husband's band, Tummler. Watching Brad on stage, doing something he loves, makes me very happy.
What is your favorite image of your family and why: This is a very difficult question, I truly love the work you have done with our family – I have so many "favorites"! If I have to choose only one, I will have to pick a photo from our most recent session in April. Isabella and Cooper are sitting on the red chair, Isabella is leaning over talking & smiling at Cooper. They are holding hands. Cooper has a sly little smirk on his face. When I look at this photo, I can FEEL how much they adore one another. You were able to capture a moment that we will treasure forever.
Thanks for playing, Tracy! I learned some new things about your family, and can't wait to learn more at our next session…